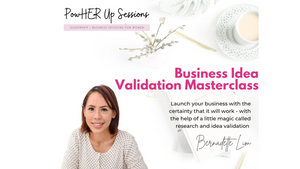 ScentrePinoy Academy
Business Idea Validation Webinar Replay
Regular price
₱399.00
Sale price
₱599.00
Tax included.
Shipping
calculated at checkout.
You have an idea for a business, but you aren't sure whether it will succeed or not. Take guesswork out of the picture and include validation, and you're one step closer to launching a successful business.
With validating your ideas, you can spare yourself from the unnecessary work, business heartbreak / losses, and it can, in fact, help you zero in on the more valuable things to make your business a success.
In this PowHER Up Session replay, learn from the seasoned mompreneur behind the big hit brand BC Fragrance, Bernadette Lim, otherwise known as The Fragrance Specialist and how she has grown her business and expanded her product offerings by:
• Address the common question - why should ideas be validated
• Identify factors that contribute to the success of your idea
• Get more comfortable in validating ideas through actionable steps
• Provide you with tools to make the idea validation process efficient for you
This is for you if you are:
- an entrepreneur looking to launch project, initiatives, fresh ideas for your business
- an aspiring entrepreneur who needs to gain clarity and more concrete direction with his business
- an individual contributor / corporate team member whose role includes launching projects and ensuring its success
What's included in the replay access:

90min of webinar
Copy of slides
Copy of worksheet

---
More from this collection